Finding Your Dream Job with Visualization:
There could be several reasons why you're uncertain about the ideal job/career path for you. You might have several ideas in mind but can't choose between them. You might be at a crossroads where your current career is not fulfilling and you want to find a new one. Or, it could simply be that you're not exactly sure.
Whatever your story is, visualization can help. Visualization is a powerful technique that can guide you in identifying your interests and defining what success means to you.
Follow these 5 easy steps and let the power of visualization guide you to the perfect career choice.
Identify your skills and talents
First, list all of your skills, talents, and unique traits. Reflect on those you enjoy doing the most.
Next, research careers and jobs that require these skills and visualize yourself in each one.
Take your time and really see yourself doing these jobs. Reflect on how each one makes you feel.
Finally, pick the one that resonates with you and that makes you feel excited and happy. You have just identified your dream job!
Live in the future
Now it's time for some in-depth visualization. Imagine yourself in the future, settled in your dream job. This visualization must be very vivid and as detailed as you can make it by creating a scenario of your day at work.
Imagine yourself walking into your office, interacting with colleagues, and sitting down at your workspace.
Use all of your senses to experience everything around you. Go through the tasks and interactions of your day, visualizing how you tackle problems, deal with customers, or manage your team.
As you visualize, reflect on how you are feeling. Your brain should feel stimulated, motivated, and fired up.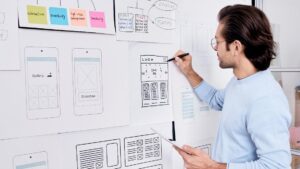 Write down affirmations
Enforce your visualization by writing down positive affirmations about your dream job. The statements should be in the present tense as if you were already doing them. For example, "I'm a sixth-grade math teacher and I love what I do." Or, "I'm an amazing chef who creates amazing recipes." Or, "I'm a software engineer who is creating a revolutionary new diagnostics program."
These affirmations will flood you with "feel-good" energy, further confirming that you've made the right choice.
Visualize your dream job every day
This step involves visualizing your dream job every day for 5 to 10 minutes, or longer if you choose. Do this for about five days. Again, visualize vividly as if you are already in the future and create various detailed scenarios.
By now, you should be feeling so excited and fired up that you're certain you want to make this dream a reality.
Take action
Now that you are clear on what your future success looks like, it's time to take action. Start planning what you need to do. Determine whether you need to learn some new skills or get some sort of degree or qualification. Set short-term goals or milestones that are clear and realistic.
Finally, you can choose to make a vision board. This will contain images and photos of your future career, as well as inspiring quotes and affirmations.
A vision board is not mandatory, however. You can practice daily visualization as explained previously.
Conclusion
That's how easy it is to use visualization to find your ideal career. You're just 5 simple steps away from a successful future doing what you love.
All you have to do is look at your vision board for at least five minutes every day or visualize your dream in detail.
By the way, here's an amazing bonus. Not only can visualization help you find your dream job, but when you continue to practice it every day, it will help your brain make the dream a reality!
DISCLOSURE: THIS POST MAY CONTAIN AFFILIATE LINKS.  MEANING I GET A COMMISSION IF YOU PURCHASE THROUGH MY LINKS, AT NO COST TO YOU. READ MY DISCLOSURE FOR MORE INFO.  
About Post Author