Anyone familiar with visualization knows that it's an effective tool for manifesting goals and aspirations, do you know the Health Benefits of Visualization This is an amazing fact in itself. Perhaps this is why many people overlook the other benefits that visualization has to offer.
The most important of these are the health benefits that accompany visualization. Here are 7 benefits that will surprise you.
1. Visualization relieves stress
We know that stress kills. It's the leading cause of stroke, heart disease, high blood pressure, and other serious health issues. We also know that it's important to de-stress daily in order to prevent stress levels from building up.
There are many strategies for relieving stress but the most enjoyable – and the most powerful – is visualization.
What happens when you visualize yourself on a tropical island paradise? You're lying on a warm sunny beach, the sand as soft as velvet under you. Warm waves lap at your feet and the scent of exotic flowers wafts gently toward you.
The results of this exercise are deep relaxation, inner tranquility, and feel-good hormones flooding your brain. Instant stress-buster!
Visualization for stress relief leaves you refreshed, revitalized, and radiating peace and joy from within.
2. Visualization helps with pain alleviation and control
Studies have found that people can manage and relieve pain with visualization. More research is ongoing to uncover how the practice can fight and heal disease.
Visualizing warmth or bright light flooding the pain area and dulling the pain really works.
The thought is sent to your subconscious mind, which can't differentiate between reality and imagination. The brain starts believing that the pain relief is taking place right now and it acts on the thought, stopping or dulling the pain.
As you can imagine, the potential of this type of visualization is massive.
3. Visualization alleviates depression and anxiety
These are also two main causes of serious physical and mental issues. The highly positive emotions and sense of security created by visualization are among the best ways to alleviate the negative impact of depression and anxiety.
Visualizing calm and uplifting situations immediately calms the mind and boosts optimism and hope. These feelings are natural anti-depressants and anxiety busters.
4. Visualization promotes immune health
Our immune system is the first line of defense against inflammation and disease. The stronger it is, the better it can keep you healthy and disease-free.
Stress, depression, fear, and anxiety are the main causes of a weak immune system. They cause the body to release massive amounts of stress hormones, exhausting and overworking your immune system as it tries to reduce stress levels.
The positive emotions generated by visualization lower stress hormone levels, leaving your immune system free to do its real job: keeping your body healthy and strong.
5. Visualization promotes mental health and clarity
Regular visualization trains your brain to remain clear and focused and to develop the ability to perceive things from a larger perspective.
It's an excellent mental workout that keeps your brain healthy and sharp. It prevents memory loss and brain fog and boosts your attention span.
A sharp, active brain is the best armor against diseases like Alzheimer's, Parkinson's, and dementia.
6. Visualization can help you lose weight and stay fit
Consistently visualizing your health goals will help you achieve them faster. Remember, when you visualize a leaner, healthier you, your brain believes that this has really happened.
It will work to create behaviors and thoughts that support your goal. This includes keeping you motivated and determined. It might also signal your bodily processes to burn fat faster and build muscle.
7. Visualization promotes better sleep
It's a given that the positive emotions generated by visualization will ensure a good night's rest. Sleep is an amazing regenerative process that allows your body to detoxify and heal. Quality sleep is also essential for a strong immune system.
This is why experts recommend engaging in visualization before going to bed in order to promote relaxation and calm.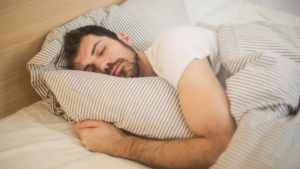 Conclusion
There are many stories of how visualization has changed lives. Ordinary people all over the world have achieved amazing success by simply closing their eyes and imagining the future of their dreams.
Add to this the amazing health benefits of visualization and you have a truly transformative tool. Start practicing visualization today and let it change your life, too.
DISCLOSURE: THIS POST MAY CONTAIN AFFILIATE LINKS.  MEANING I GET A COMMISSION IF YOU PURCHASE THROUGH MY LINKS, AT NO COST TO YOU. READ MY DISCLOSURE FOR MORE INFO.  
About Post Author